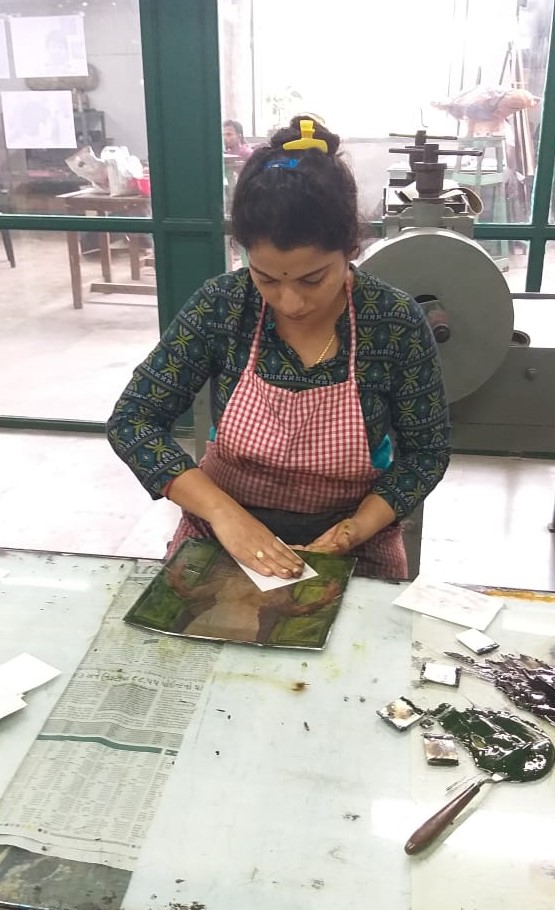 "The days you work are the best days"                          Courtesy: Georgia O' Keeffe
Master

of Fine Art (Printmaking) ( 2014-2016) from Sarojini Naidu  School of Arts and Communications, Central University of Hyderabad, India

Bachelor of Fine Arts(Painting) (2009-2013) from Jawaharlal Nehru Architecture and Fine Arts University, Masab Tank, Hyderabad, India
     I am a freelancer artist from India and my core area of art practice is in Printmaking and Drawing medium. My artworks depict woman as the live emblem and beholder of energy. I co-relate with nature's different elements as a pointer of source and struggles in each of my prints. My initial works are primarily an effort to depict the journey towards individual's growth in achieving own individuality and evolving to a higher domain. Women being the central character of my expression, the feminine attributes of nature have been prominent in my works. Even I have depicted nature as a beautiful trap. The creepers are an important element in my earlier works. Most of my works oscillates between women centric emotions in relation to nature and our surroundings. The nature's elements automatically break the monotony keeping aside the mundane objects of our surroundings.  It basically manifests the challenges of our everyday life that shape and reconstruct the individuality of a woman and which eventually empower her. Within the paradigms of the hurdles she grows as a person. Nature gets glorified in all its latent aesthetic and effervescent charms in my prints. There is an undercurrent of fantasy which establishes a bridge between the individual and the nature around us.
 In Jun 2019, I have been awarded grant as emerging artist in Printmaking category by Elizabeth Greenshield Foundation, Canada. Again in Oct 2020, I have been awarded the 2nd grant by Elizabeth Greenshield Foundation. All my current art practices are as per the art proposal committed to the foundation.
My special thanks to the Elizabeth Greenshields Foundation for its financial support.     
                                                                                                                                     Rajashree Nayak